Lightbits' software-defined, disaggregated and high-performance storage can be deployed on Supermicro SuperServers over standard ethernet networks using TCP/ IP protocol, requiring zero modification to applications.
While software-defined storage is desirable for its ability to lower cost by utilizing standard servers and components, a "do it yourself" approach is not for everyone.
For the ultimate in scalability, performance and convenience, this ready-to-deploy solution delivers composable NVMe® over TCP-based block storage with built- in Intelligent Flash ManagementTM that increases flash endurance by 20X. It's an ideal platform for applications running on-premises, in private and edge clouds in containerized or virtual environments.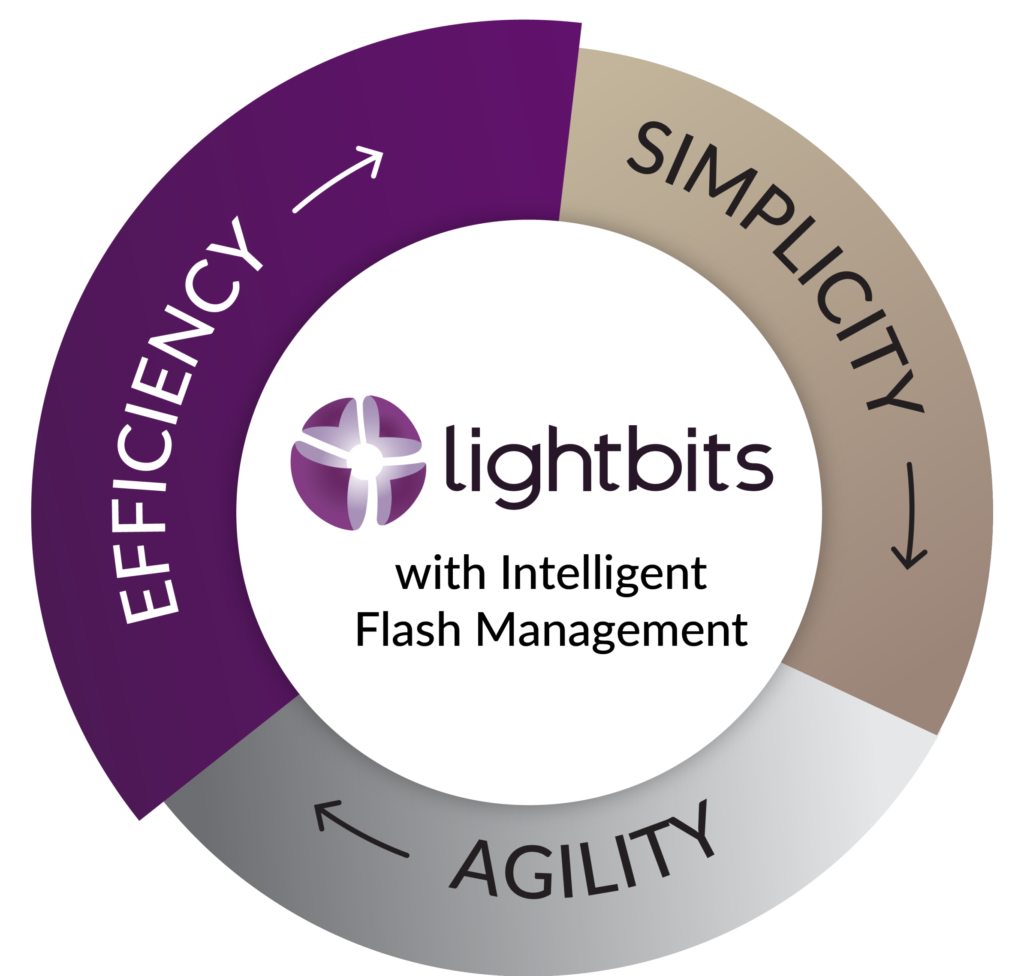 DEPLOYING WITH CONFIDENCE
Lightbits offers rich data services such as thin provisioning and compression. A single SuperServer in a Lightbits cluster with redundancy enabled can serve up to 4.7 million random 4K read IOPs, up to 760,000 random 4K write IOPs, up to 21GB/s of read bandwidth and up to 4.3GB/s of write bandwidth.
Unmodified Software on Clients

Standard NVMeoF 1.1 w/multipathing (ANA)
Clients can connect to multiple clusters

Clustered/Failover Storage Solution

Distributed cluster management with fast failover and no single point of failure
Cluster size: 3-16 servers
64K Volumes per cluster

Lightbits Cluster Performance

75 Million 4K Random Read IOPs
12 Million 4K Random Write IOPs
336 GB/s Read Bandwidth
68 GB/s Write Bandwidth

Lightbits Cluster Capacity (15.36TB drives)

4.68PB Effective Capacity (2x
replication, Elastic RAID, 2:1 compression)
Lightbits Cluster Latency with

2x Replication
160μs average latency 4K Random
Read @1.27M IOPs per server
493μs average latency 4K Random
Write @433K IOPs per server

Storage Services

QoS
Thin provisioning
Compression
Elastic RAID for drive failure protection
Volume replication (1x, 2x or 3x) per volume

Node Management

Replication and failover handling • Failure handling using NVMe/TCP
Multipath
Non-disruptive cluster upgrades (for 2x and 3x replicated volumes)